Make Your Business Proposal More Persuasive
Prompt: Proofread and enhance my business proposal to make it more persuasive and compelling.
Revised with editGPT Browser Extension:
39% of passage rewritten
Original Word Count:  296
Revised Word Count:  301
I
would like to
introduce
you
to
our new
start-up business in the beverage and hospitality industry
. Our company, "Brew-Genie",
is an AI-
run
coffee house located in the
bustl
ing city of Toronto, Canada. Our brand
represents the idea
of a "genie" that helps customers brew the
ir
perfect
coffee.
Toronto was
chosen
as the ideal location for our flagship store
because it offers a
large population of coffee
lover
s and the store
's
location
is expected to attract customers during their busy schedules. Our target market
segmentati
on
is
coffee enthusiasts aged 18-45 who are
becoming
increasingly familiar with automation and AI technologies.


The coffee house operates without
an
y
f
ront of house staff, allowing customers to fully control the customizati
on
of
their coffee. The
ingredients are organized in a user-friendly interface
a
nd
customers
can mix and
create their own
"
recipes
"
using our smart screen. All
the
ordering
process
, payment, and
even
coffee recommendations are completed
by
our AI system based on big data, which records customer information and preferences.
Our pricing strategy is set at an average of $4.5, slightly higher than the average market price but still competitive with the top sales. Our mission is to provide a unique and innovative self-service experience through AI technology
and t
o be
completely transparent about the ingredients in our coffee.


The keys to o
ur
success
include
a visually appealing store design, effective marketing strategies, and data collection to build a s
olid
base of loyal customers.
We also
plan
to expand our operations to other cities after the trial period, continuously improving and expanding our market share.


Thank you for considering "Brew-Genie" as a potential investment opportunit
y. We look forward to the possibility of working together to bring our unique concept to life.
The image below is a screenshot from the new editGPT editor.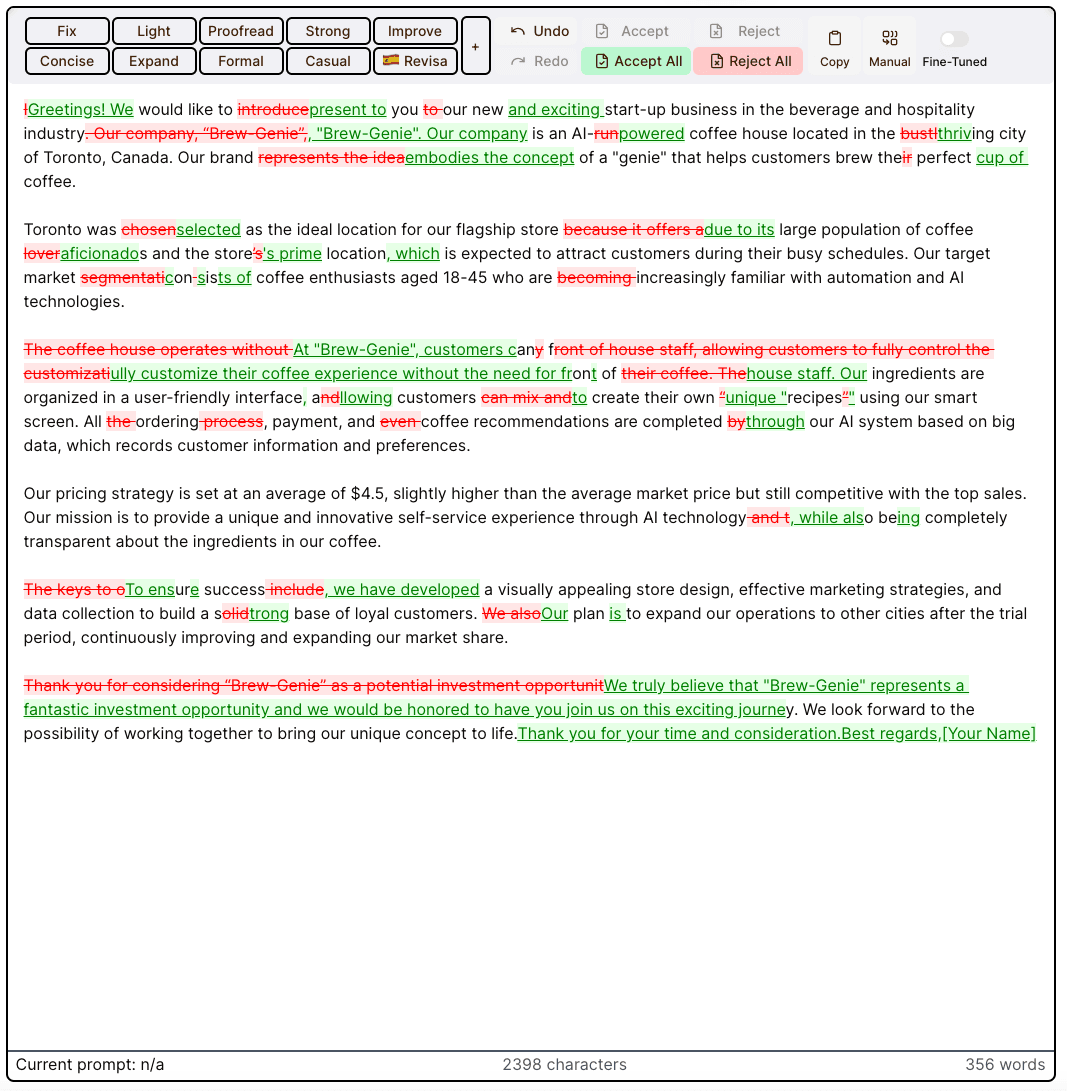 ---