Enhance Your Cover Letter
Prompt: Proofread this cover letter and make it more professional and clear.
Revised with editGPT Browser Extension:
51% of passage rewritten
Original Word Count:  257
Revised Word Count:  237
To whom it may concern,

With diversified experience and strong motivation to excel in the management consulting field, I am applying for the Management Consultant position at McKinsey & Company. I am convinced that my distinctive background would equip me with a significant adv
an
t
age
in this position. I would greatly appreciate it if you kindly spent several minutes to get to know me.

Majo
re
d
in Applied Psychology
, my undergraduate education at the University of Toronto provided me with rigorous
data collection and
processing
skills in both quantitative and qualitative research
es, as well as theoretical knowledge which is valuable in consulting and problem-solving processes. In addition, I also have a scientific level of experience in the cross-cutting field of business and psychology. I
led a research project
which focused on
information disclosure methods of publicly traded companies
,
and
also
contributed to a team
that researched
the psychological characteristics of amateur investors in the Canadian stock market. My thesis
about
the application of game theory in marketing promotion activities
gave me a deeper insight into
consumer behavior and
practical
marketing strategies.
P
ursuing an MBA degree at
the
Harvard Business School
now, I am engaged
in
m
ore
practical business cases
, which helps me better integrate my theoretical knowledge of various disciplines.

In addition to this letter, I have also
attached my
current
resume
which
will give you
a more comprehensive
idea of my competencies. I look forward to the opportunity to explain in greater detail how I can be effective in the position I am applying
. Thank you for your time and consideration.
The image below is a screenshot from the new editGPT editor.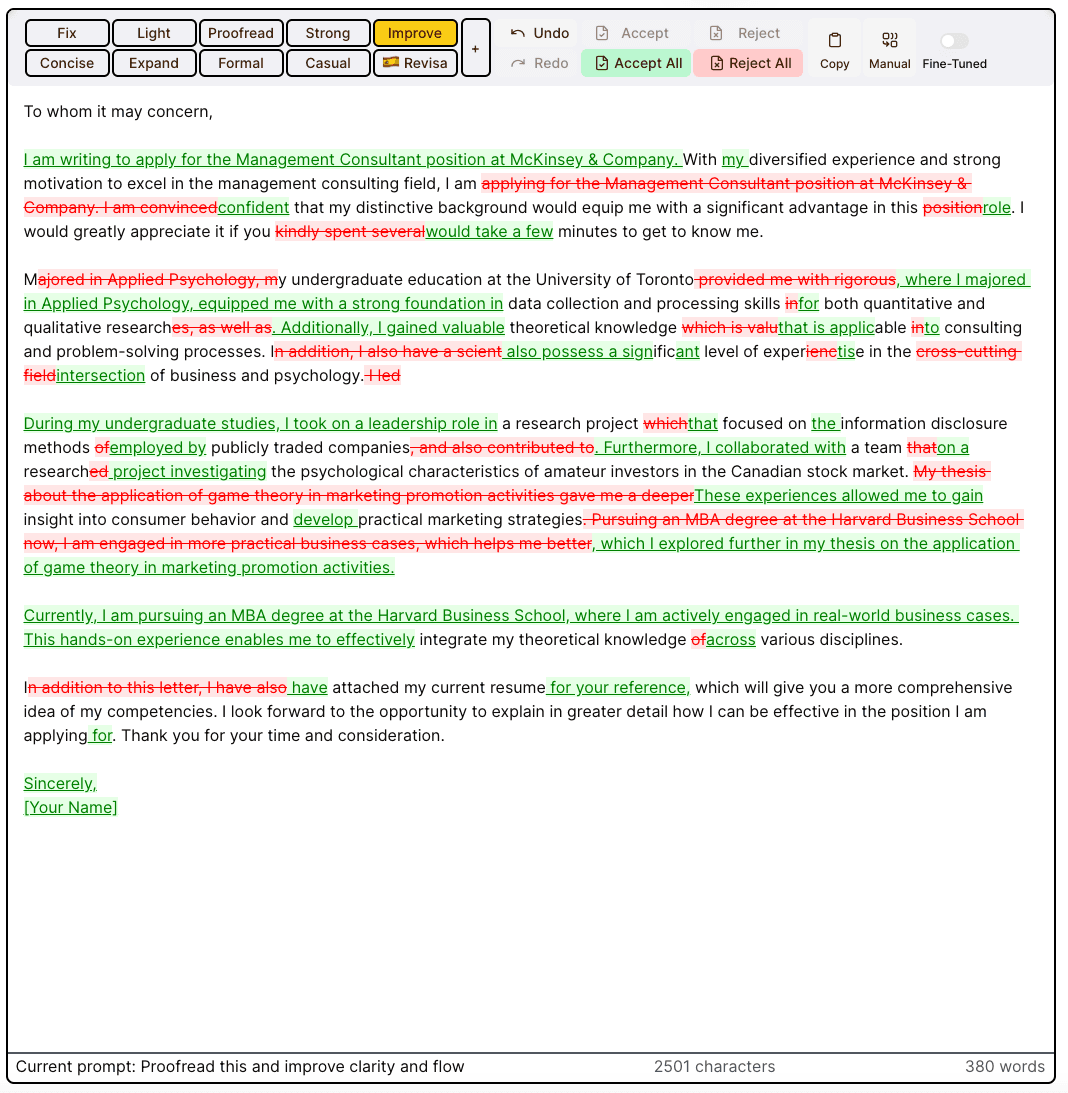 ---